Drummed Asphalt Melting Plant
Model:SYT-8
Productivity: 6-8T/H
Bitumen storage volume: 20m³
Heat type: Thermal oil
Power:15Kw
I. Equipment principle.
1.1 Hydraulic revise and push device.
1.1.1 Use a forklift to place the barrel on the seat. Figure 1
1.1.2 By hydraulic cylinder extend of the gate, then gate touch the gate to revise the bitumen barrels, then bitumen barrels from seat to the gate. Figure 2
1.1.3 By hydraulic gate shrink to push the barrel into the bucket room. Figure 3
| | | |
| --- | --- | --- |
| | | |
| Figure 1 | Figure 2 | Figure 3 |
2. The principle of the bucket room.
2.1 After the bitumen barrels go inside the de-barrel chamber, the barrel gate is downward, and the heat-conducting oil tube heats the wall of barrels by means of radiation, and the air around the barrel is heated by convection. After the solid bitumen inside the bitumen barrels is heated and becomes a viscous liquid, then flows to the melting chamber.
2.2 The bitumen barrels keep pushing into the chamber is continuously inserted into the barrel, and the barrel is pushed to the back in turn until it is pushed out at the rear end.
| | |
| --- | --- |
| | |
| Chamber inside tube | Automatic door |
3. Melting room
After the bitumen flow into the post-melting chamber, then bitumen touch the heat-conducting oil tubes by heat exchange. After the bitumen is heated to the pumped viscosity, it can be pumped out.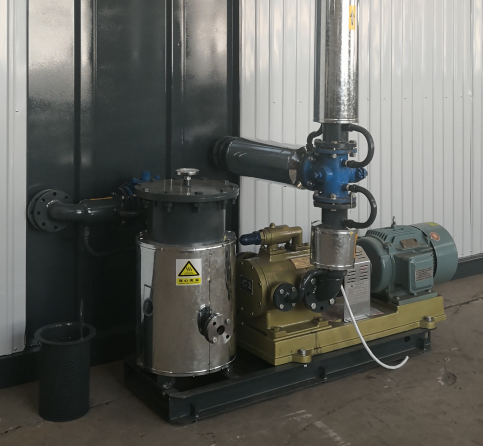 4. Pump Group
The pump set adopts a high-viscosity screw pump, which work together with the heat-insulating three-way valve to realize the functions of bitumen pumping out, circulating, high-position oil extraction and low-level tank clearing.
5. Hydraulic Pumping Station
The hydraulic pump station uses a motor-driven hydraulic pump to provide power to the cylinder.
Features
II. Equipment advantages:
1. The plant completes the barrel and the barrel in one time. Per barrel time need is less than 20s.
2. Mechanical revise the bitumen barrels instead of manually, greatly reducing the labor intensity of workers.
3. The equipment adopts pipelines connected with tubes and plates for high strength.
4. The pump set has an internal circulation function to optimize the heat transfer efficiency and increase the melting speed.
5.The control system can be manual and automatic.
7. Double hydraulic pump is adopted, the hydraulic cylinder speed can be adjusted according to actual needs.
Parameter
Parameter:
| | |
| --- | --- |
| Model | SYT-8 |
| Productivity | 6-8T/H |
| Working type | Bitumen barrel to the right position, the hydraulic will revise and push it to the plant, bitumen dumping, bitumen heat, bitumen recycling, bitumen output. |
| Barrel quantity | 40pcs |
| Bitumen storage volume | 20m³ |
| Heat type | Thermal oil |
| Bitumen pump capacity | 16m³/H |
| Power | 15Kw |
| Dimension | De-barrel chamber: Length 10000mm, Width: 2250mm, Height: 2450mm. |
Related Products
Inquiry